videre i nordic built konkurrence i stockholm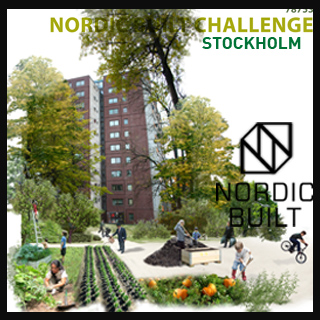 Teamet er gået videre i konkurrencen Nordic Built i Stockholm!
"Nordic Built is a Nordic initiative to accelerate the development of sustainable building concepts initiated by the Nordic ministers for trade and industry.
The Nordic Built programme will combine key Nordic strengths, provide attractive and effective arenas for collaboration and realise concrete projects that demonstrate world-class scalable solutions." se mere her
Nordic Innovation initierer og finansierer aktiviteter som styrker innovation og samarbejder primært med små og mellemstore virksomheder i Norden. Missionen er at gøre det lettere at udvikle og drive erhvervsvirksomhed på tværs af de nordiske landegrænser.
Fra dommerbetænkningen:
This is a proposal rooting its process in an international discussion, which is all to the good.
Stewart Brand's model can still be adapted, but it would also be interesting to compare this with
still more innovative and progressive topics, e.g. how the residents contribute a culture that was
not thought of when the buildings were constructed (via Bruno Latour's Actor Network Theory).
The proposal seeks to investigate the possibilities of producing renewable (electric) energy,
a topic of interest to Botkyrkabyggen. Good comparison of energy performance, and
commendable focus on the repairs achieving the greatest effect. Interesting financial solution,
which they need to take a closer look at: is it possible in Sweden, with our financing of loans
against security?
This proposal has lots of focus on social context and has a holistic view. At the same time it is
rather weak when it comes to actual measures. The proposal is very theoretical and we feel a
lot of it could be used in education. This is no bad thing, as it gives a good explanation to the
general ideas. The project shows how system thinking can be developed and used as a creative
model. When it comes to the concrete example of Krögarvägen 2, the project presents a set of
much more conventional changes. And here the Jury sees a possibility to improve and develop
the creative aspects of the proposal.
Teamet bestod af: JJW Arkitekter – Witraz Arkitekter – Rambøll Sverige – Jan Schipull Ph.d studerende/ CINARK – Peter Andreas Sattrup, lektor og Ph.d DTU – Habitats  – Tanja Bisgaard/ Novitas Innovation
Se projektet  her